Free Recycled Computer Pick-Up Service
Schedule A Recycling Pickup: Everertt Computer Recycling will pick up your company's computers, laptops, and e-waste at no charge. If you have need of a surplus computer or electronics pickup for recycling please call 206-784-4215. We have Free Recycled Computer Pickup Service!
Bring In Your E-Waste: We are currently accepting computers for recycling at our Seattle location at 76th and Aurora in the Seattle Laptop building. We are open 7 days a week, and accept all types of e-waste except televisions, and appliances. If you have any questions about our computer and laptop recycling operations please call. We will be more than happy to answer all your questions about recycling, and data wiping.
Schedule A Pickup With Our Staff: Give us a call, and we will send a truck or van to pick up your recycled computers. We can help you inventory, and list asset tags if necessary. We will also provide a certificate of destruction upon request.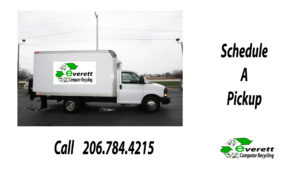 Let Us Know When And Where To Come: Our staff is very flexible when it comes to removing recycled equipment. We have smaller vehicles that can provide recycling services other companies do not offer. Our team has been removing computers from locations around Everett for years, and in many cases access is limited. We can accommodate any special requirements your company may have regarding recycled computer and laptop removal.
Free Recycled Computer Pickup Service
Free Computer Pickup: Yes, in most cases removing surplus computers in the Everett Area is free. There may be a small charge to remove some items, such as a large quantity of printers, or other pieces, but that is rare. Our free recycled computer pickup service is very popular. Please let us know in advance what your company's needs are so we can plan your pickup. We also purchase corporate surplus.
Western Washington Pick-Up Area: Everett Computer Recycling covers all of Western Washington State from the Canadian border, to Olympia.
POS System Recycling: Everett Computer Recycling will recycled POS systems. POS terminals, printers, and other equipment. If your retail location, or restaurant has old POS equipment you don't need bring it in for recycling, or schedule a pickup.